Title: Conspiracies: Revelations
Author:

sheenianni
Artist:

aragarna
Word Count:
~ 49,700 in total
Characters/Pairings:
Neal Caffrey, Mozzie, Peter Burke; minor cast Diana Berrigan, Elizabeth Burke, Sally, June Ellington, Reese Hughes, Satchmo, Bancroft, OCs, others; Peter/Elizabeth (off-screen), Mozzie/Sally (off-screen)
Rating:
R
Content Notice:
Torture, violence, trauma; mild swearing, casual homophobia (minor occurrence)
Spoilers:
Minor from all seasons
Summary:
When Mozzie, a brilliant scientist and law-abiding citizen, got caught in the middle of a dangerous conspiracy, he asked Neal for help. For a month, they successfully evaded their hunters… until it all went south. Suddenly Neal's life is in peril and Mozzie is desperately searching for allies. Who is the mysterious Suit and what is Peter Burke's role in the events? Will they expose the nefarious plot, and what will happen to the three of them before this all is over? AU.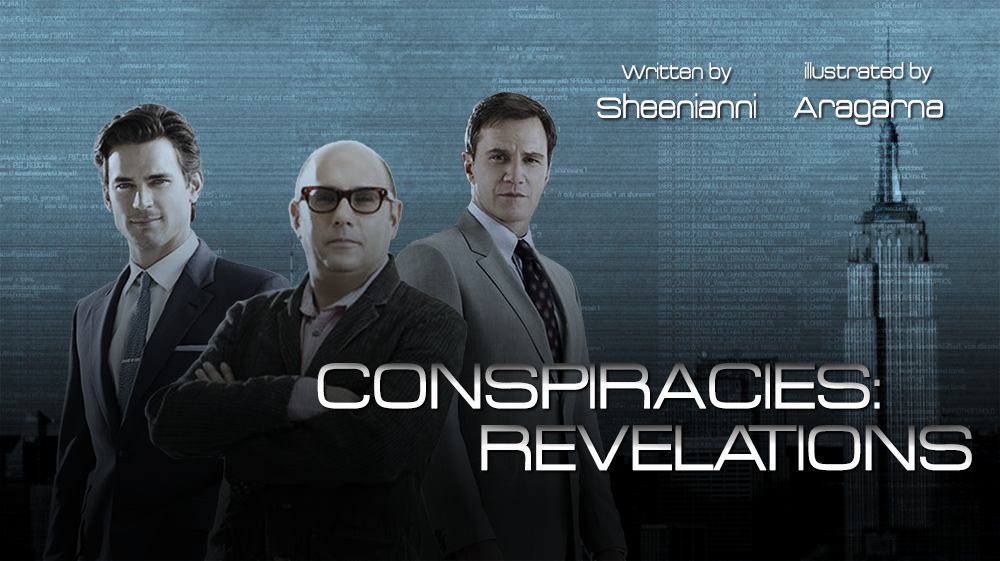 Author's Note:
This story is a direct sequel and contains numerous spoilers to my earlier work,
Conspiracies
, though it can be read without knowing the original story. If you haven't read the original, proceed at your own discretion.
Acknowledgements:
Honestly, I don't think I would have been able to finish this, if not for two amazing people:

treonb
and

nywcgirl
. They were my first beta-readers, but more than that, they encouraged me to keep writing, brainstormed with me more times than I can remember, gave me new insight and just pretty much kept me going when I was ready to take an axe to my laptop and be done with it. Thank you so much, both of you!!! I also have to thank
mam711
from fanfiction.net, who helped with the grammar and helped me fix a few odd places. Finally, there are the people from

wcwu
, who supported me with encouragement, ideas and WWs. Thank you all :)
The art has been done by the wonderful

aragarna
. You can give her some love
here
___________________________________

Prologue - On LJ | On DW
Part I - On LJ | On DW
Part II - On LJ | On DW
Part III - On LJ | On DW
Part IV - On LJ | On DW
Part V - On LJ | On DW
Part VI - On LJ | On DW
Epilogue - On LJ | On DW